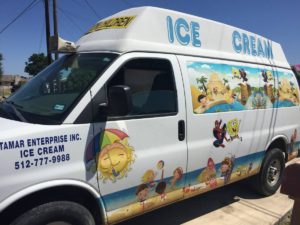 Do you dream about becoming your own boss? Want the freedom to make your own schedule? Are you looking for an engaging, fun and profitable business to get into? Then starting your own ice cream truck business might be for you…
The ice cream trucks in today's world not just offer ice cream to their customers. You will be able to sell candy, hotdogs, shaved ice and other snacks in order to get maximum profits. In fact, you will be able to earn over $1000 per day with an ice cream truck.
Here is a list of three steps that you should follow in order to start your own ice cream truck.
Step 1 – Do a research and come up with a solid ice cream truck business plan.
Like starting any other business, you need to do a detailed research and come up with a proper ice cream truck business plan when you are starting an ice cream truck business. Without a proper plan, you will find it a difficult task to lead your business towards success. From the research, you will be able to figure out who your target market is, how people can get to know about your business, routes that have the best response and the channels that you can use in order to promote your new ice cream truck business.
In addition to the business plan, you should be equipped with an executive summary, which explains all the important aspects of your specific business strategy. If you are looking forward to get the help of investors or a bank, you will be asked to present the business strategy. You should also create a plan of your business goals along with the steps that you are going to follow in order to achieve them in a timely manner.
Step 2 – Work on the set up.
You will need to go through some arrangements before you start the ice cream truck business. For example, you will need to get in touch with the local city hall in order to obtain the required permits. Then you need to think about getting an ice cream truck that will be able to maximize profits. You want to purchase a truck that is relatively new and has the food equipment within it that suits your needs and the demands of the community that you serve.
Step 3 – Establish your route.
Now you have gone through all the difficult steps of starting your ice cream truck business. The next thing you should do is to create a route and then stick to it. It would be a good idea to offer an excellent service to your customers and then create a group of repeat customers. They would contribute towards the development of your business in the long run.
Conclusion:
If this sounds like something that will make you happy then you will want to look at the options that Itamar Enterprises offers. From shaved ice, ice cream, hotdogs, to nachos, our ice cream food trucks come fully loaded. Learn more now.