Ice cream food trucks loaded with state-of-the-art features: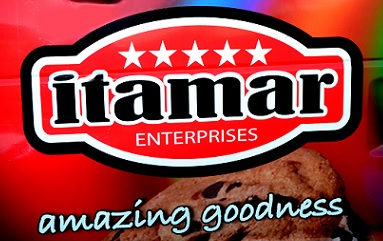 Never pay for expensive ice cream food truck franchise fees.
Purchase our ice cream and food trucks and be your own boss. – No costly franchise fees! The ice custom trucks that we manufacture here at Itamar Enterprises are provided to you through our generous licensing agreement…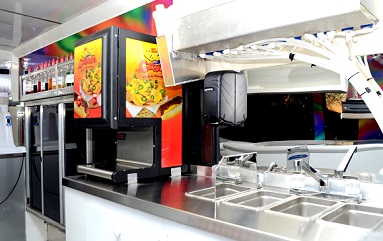 Modernized features make serving a quality food product easy.
All of the food trucks that we manufacture are built on modern 2016 model van frames. The vans are shipped to us new directly from the automotive manufacturing plant to be converted and built into what you see here…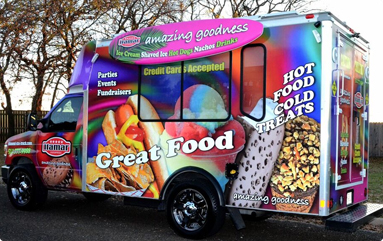 Eye-catching attractive trucks draw in sales from all directions.
We build custom trucks that are designed to catch the eye of passer-by's from miles away. With graphics of enticing food treats, persuasive sales copy, appealing colors and even a surfboard on the side, our custom trucks are truly unique….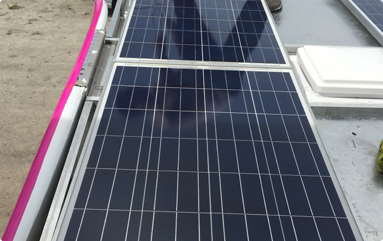 Solar powered - Save $$$ every month on expensive generator costs.
Our food truck manufacturing business builds custom trucks that are equipped with solar panels on the roof. These solar panels power the whole operation inside. This platform is not found in any other food truck like it of its kind….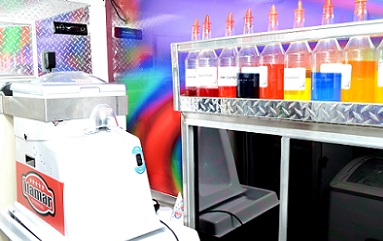 Featuring the all-in-one shaved ice and ice cream food truck.
Our all-in-one ice cream food truck comes equipped with the latest in high-efficient ice cream refrigeration, shaved ice equipment, nachos machine, hot dog equipment and dispense fountain drinks externally…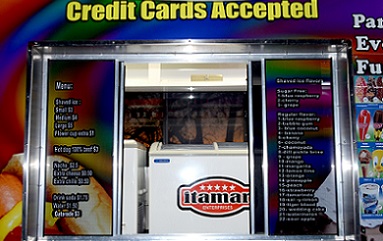 Custom features not found on other ice cream trucks in the market.
When Itamar Tsubery (the owner of Itamar Enterprises) set out to design the companies latest food truck he had one primary thing in mind; he wanted to design a food truck that stood out from all of the other food trucks manufactures…
One of a kind truck. One of a kind business opportunity.
Our food truck manufacturing business is unique from other food truck manufacturers. While most other ice cream food trucks and shaved ice business opportunities are franchise businesses, we are not. Itamar Enterprises offers you a generous licensing agreement which puts you in charge of where your business purchases the products that you sell. More so, you will not have the burden of expensive franchise fee's. For the amount of features, low start-up costs and value we are the logical choice when you decide to buy a shaved ice truck, food truck or ice cream truck.
Video - 2016 latest model.
Imagine yourself in the drivers seat and begin living your dreams. Contact us now!
Would you like to learn more about our custom ice cream food trucks? We are more than happy to tell you all about our food truck manufacturing process and features. Fill out the form below. For fast response call Itamar Enterprises now at (512)777-9988.


512-777-9988