Modernized features make serving a quality food product easy.
All of the food trucks that we manufacture are built on modern 2016 model van frames. The vans are shipped to us new directly from the automotive manufacturing plant to be converted and built into what you see here. They have been designed and developed by Itamar Tsubery who is world renowned for his innovations in the food truck manufacturing industry. More so, our food trucks are comfortable and easy to serve food out of. Only one person is needed to operate the trucks making them low cost to operate.
Side window for easy serving of food.
Custom surfboard attached to side.
Internal features not found on other trucks.
Graphically appealing to attract food sales.
Proven design is already making money.
Backed by years of experience building trucks.
Everything needed to

start tomorrow

.
Unique food truck licensing opportunity.
Buy a food truck from Itamar Enterprises and
start your future

.

Have you ever dreamed of being your own boss? Are you looking for the freedom of a food truck business and a life where you can be out in the community having fun? Then you want to purchase one of Itamar Enterprises food trucks. Now you can finally begin living your dreams of financial freedom doing what you love.
Ever wonder how to start a food truck business? We have the solution for
you

!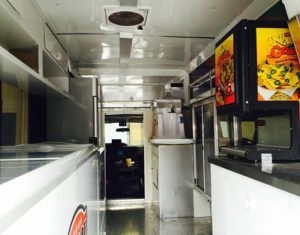 Our food truck company is more than just a truck. We offer you a full scale food truck business. While many other food truck companies simply have food trucks for sale, here at Itamar Enterprises we will help you design your own food truck and provide you with everything that you need to start running your business. – No easier way to get into the food truck business!
You can trust the experience of Itamar Enterprises!
Itamar Enterprises first got into the food truck business by driving their own food trucks in Austin Texas. Over the years their food truck business became so successful that they expanded to the point where Itamar Enterprises now offers their trucks for sale to the public and is one of the leading truck builders in the nation.
Premium

food trucks – We are where to buy a food truck!

Our proven business model has been tried and tested over many years. You can trust our years of experience building food truck businesses and the success that we have achieved for the 100's of food trucks that we have built for our happy clients. The question for you now is; are you ready to start living independently making money in a relaxing environment? Contact us today and come see for yourself how our food trucks outshine and outsell our competitions food trucks! (512)777-9988