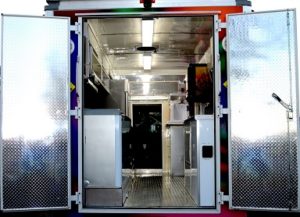 Itamar Enterprises has been in operation since 2000. Our family owned and operated ice cream and food truck manufacturing business is centrally located in the United States. We are located in Austin Texas for easy distribution making it easy to purchase and ship to you one of our mobile food trucks for sale.
From our grassroots as a small one man operation, to the full-fledged custom truck manufacturing facility that we are today, one thing remains true to this day as it always has; we continue to put our customers first through innovation, by adding state-of-the-art features to our custom food trucks and with extensive trial and error market research. The benefit for you our customer is a proven ice cream truck business plan on a custom truck platform that is guaranteed to bring you substantial cash flow for many years to come. – We are the proven formula to start an ice cream truck business!
16 years in business and many more years of experience in the building and branding of custom ice cream food trucks.
For the last 16 years we have made several different models of our custom food trucks. We are truck builders of ice cream trucks, shaved ice trucks, food trucks and our most popular truck, our all-in-one truck ice cream food truck which includes all of the options.
We invite you to browse all of the pages on our website. Be sure to visit our truck builder page to learn more about us. If you are looking to get into the ice cream and food truck business then we are confident that you will find our company to be your choice when you choose to start an ice cream and food truck business.
Contact us right now to learn more about us and all of the unique state-of-the-art features that our trucks offer. We look forward to learning more about your needs and will bring your dreams to reality. Fill out the form below or call now (512)777-9988.