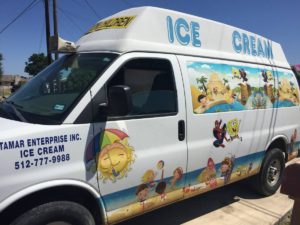 There are few jobs that give you as much happiness as running an ice cream truck business. There's no greater pleasure than watching the smile on the faces of small children on being handed out their favorite ice cream dessert.
Ice cream trucks have been in operation in the United States since the early 19th century and they remain as popular as ever. And yes, they are profitable too, especially during the summer. It's not just about children, even adults rush to an approaching ice cream like moths to the flame!
This is certainly a lucrative business, but if you're considering getting into it, then you should know that your biggest expense will be the truck itself. Following that, you will be able to make consistent profits over many, many years. Ice cream trucks will never go out of fashion in this country.
How much does a used ice cream truck cost?
The cost of a used ice cream depends on its age, features and condition. You can expect to pay anything from $12,000 to $30,000+ for a used truck.
What to look for in a used ice cream truck?
The history of the truck is very important. Older models certainly cost a lot less than the newer ones, but you will want to make sure that they are well maintained.
Some older models come with brand new engines and other new parts that have been installed only recently. Such trucks should make for a good choice.
You will need to find out who many owners had previously operated the truck during its lifetime. Was it a purpose built ice truck, or a vehicle that was converted into one?
What about the freezer? The freezer is the most important component of an ice cream truck. How old is the freezer? Closely examine the freezer. Ask the owner to turn it on for at least a couple of hours before you arrive for the inspection.
Check the temperature with a thermometer – the reading should be between -15 to -20F. If it's not, then it's bad news. You will probably need to invest in a new freezer, then, which you probably wouldn't want to. You want to buy an ice cream truck with a perfectly functioning freezer.
Next, conduct a thorough examination of the engine, preferably by a qualified mechanic, who would be able to give you a professional opinion on the truck. Take a test drive and find out if there are any strange sounds. If so, it is possible you'll need to spend on expensive repairs in the future.
Examine the inside and outside of the truck for safety equipment, such as flashlights to warn other drivers about the approaching children.
Where to look for a used ice cream truck?
Itamar Enterprises offers several used ice cream trucks for sale. From domestic to foreign we have something for everyone, in every budget.
Finally…
Don't always look for the lowest price possible. When an ice cream truck is being offered for a ridiculously low price, you should see that as a potential red flag. Owning and operating an ice cream truck can be a source of a consistent income over many years, just be sure to pick one that is reliable and of a reasonable quality.